Our Dedication
Seawood Photo has been around since 1947, providing people with what they need to start themselves on the path to photography, or to continue on a long path that they have already been on for many years. Photography is a process in which one never stops learning and never stops improving. Many of our loyal customers have been coming to us for advice and supplying their careers and hobbies for decades.
Our staff is dedicated, knowledgeable, and trained to find out what your personal photography needs are. When you come to Seawood Photo, you will find people who are passionate about sharing their love of photography with you. Whether you are just starting out or your are a seasoned pro, we are here to help.
Seawood Photo's owner, Graham Law, is an avid collector and his love for vintage cameras has given us the largest used inventory of any camera store in Northern California. We invite you to come and in and get lost in the vast array of used lenses, cameras, tripods, accessories and more.
Our History
Beginnings: The Photo Shop
Seawood Photo was originally called "The Photo Shop" and opened for business on April 19, 1947. The original owner, Cliff Rattenbury, was in a partnership with another store in nearby San Rafael, also called the Photo Shop.
Cliff sold the San Anselmo store to Don and Nina Davison in the early 1960's, who then changed the name to Seawood to avoid confusion between the two now separate stores. The Photo Shop, San Rafael closed indefinitely in the late 1980′s.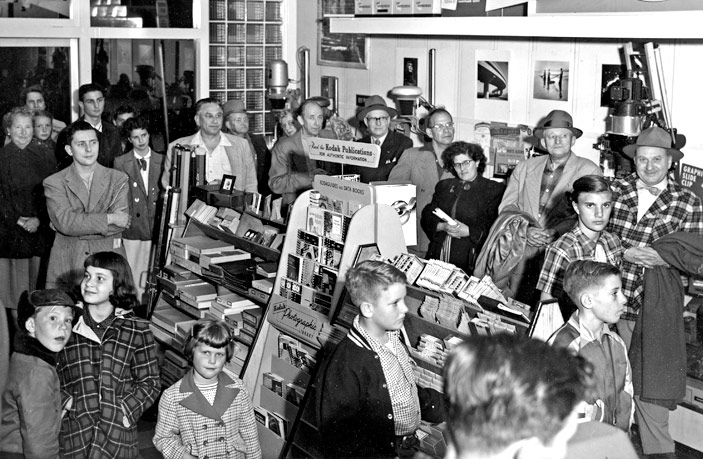 The Photo Shop's first Anniversary Sale
The name "Seawood" was derived from San Anselmo's proximity to the "sea" and to the "woods"
The Davisons owned Seawood for many years and went through a number of changes, including Seawood Photo and Sound in the 1970′s.
The 1982 Flood
In 1982 the town of San Anselmo endured a devastating flood that almost caused Seawood to close forever. The Davisons somehow managed to recover, but had had enough so then sold the business to Harry Bowman in 1987.
Harry was new to the photo retail business, so on Don Davison's recommendation he hired Graham Law to manage the store.
Graham was a manager at Old Town Photo, in Novato, Ca. and was also working as a commercial advertising photographer
Graham quickly changed the store from a sleepy hole-in-the wall into a vibrant part of the Northern California photo community. Seawood quickly grew and prospered.
The 90′s
In 1993 Graham bought the store from Harry Bowman and has run it ever since.
Seawood soon began to target the collectible and used camera market, offering to buy, sell or trade. As a result, Seawood now has the largest inventory in Northern California.
This also led to the expansion of the Seawood camera museum; Seawood has over 500 classic cameras on display in the store!
Now
Now in our 7th decade, Seawood is continuing our commitment to Marin's photographers by providing the finest in digital and traditional photo gear, darkroom and inkjet supplies, photofinishing, photo workshops and more!